Virtual Clases - Virtual Fitness - Virtual Gym
Fitness Virtual Trainer - Online Gym
Producer of Virtual Fitness Classes from the 2008-2022
Virtual Class, Audiovisual services and gamification for Gyms
Video Virtual Classes of Indoor Cycle, Indoor Elliptical, Directed Activities and Boxing
In addition to Graphics and Virtual Routes for Indoor Cycle Spinning classes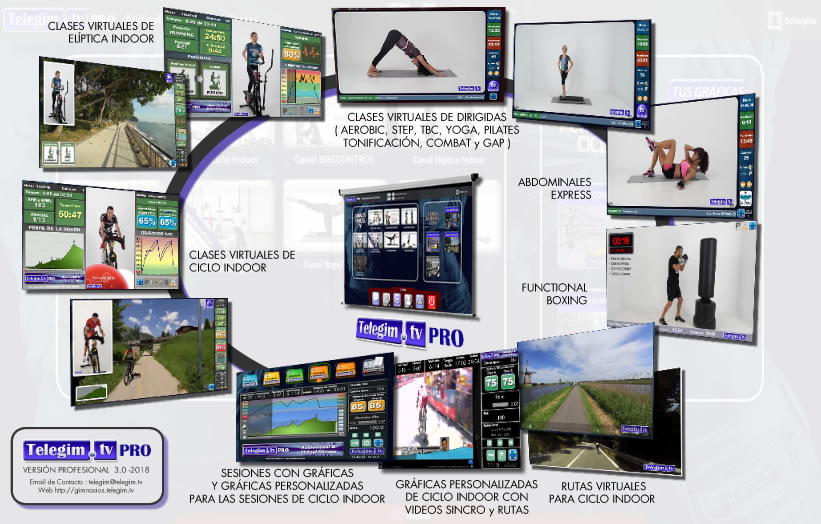 In our professional online channels we broadcast virtual classes 24 hours a day and they are personalized with the logo of each Sports Center, being fully automated and at the same time manual to view the virtual classes when the gym wants it. In our online channels for gyms we broadcast professional online video classes of Indoor Spinning Cycle, Indoor Elliptical and Directed Activities ( Such as: Aerobics, Step, TBC, Toning, Yoga, Pilates, Combat, Boxing, etc ...) 365 days a year with which the Sports Centers can easily complete the hours of low influx to the center, in which they do not have face-to-face classes of these disciplines, with our professional video classes, 24h/day - 365d/year.

Our system is fully adaptable to rooms for the exclusive use of the activity, or if you prefer, you can put our video classes in the multipurpose room, thus having these activities available to your users during all opening hours from its Sports Center.

Virtual Classes with first level instructors, included in our Virtual Indoor Cycle classes the ex-professional cyclistMelcior Mauri, winner of the "Vuelta a España", 2nd world time trial, among many other titles.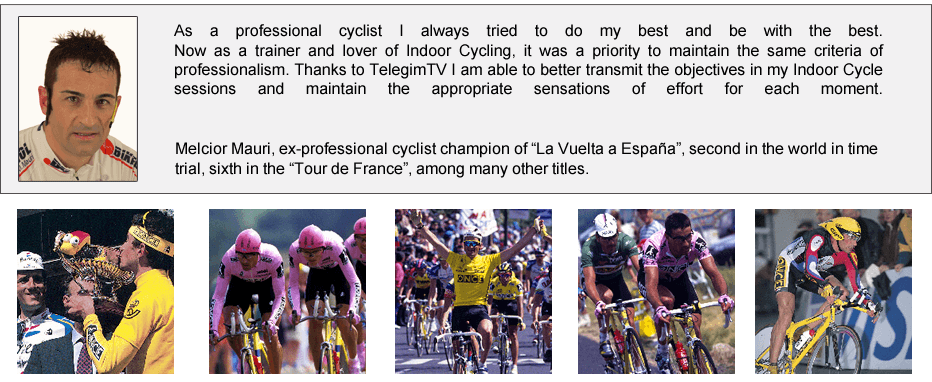 What's more, Melcior Mauri, with his great experience as a former professional cyclist and elite athlete, collaborates with us (TelegimTV), contributing all his technical knowledge to improve our Classes, Tool for creating Charts, Virtual Routes and Technical Sheets of our Cycling activity Indoor.
TelegimTV Contact Form
For any questions about our Video Classes for Gyms, Services for Indoor Cycle Monitors or Classes for Individuals, do not hesitate to contact us by filling in the following form or by calling us at the telephone number of our offices indicated at the bottom of the page at the following hours : ( (Telephone service: Monday to Friday from 8:30 to 13:30 or from 16 to 19).